Artificial intelligence is transforming content creation in unprecedented ways. A breakthrough AI tool leading this revolution is Stealth Writer AI. This advanced content generation platform allows users to produce high-quality, human-written content that slips past plagiarism checks and content scraping protections with ease.
In this comprehensive Stealth Writer AI review, we analyze its standouts, benefits, use cases, inner workings, pricing, and alternatives to help you determine if this groundbreaking AI solution is right for your content needs.
What is Stealth Writer AI
Stealth Writer AI is an AI-powered web application designed to rewrite and enhance content using natural language processing. It uses advanced deep learning techniques to analyze and rewrite input text with improved vocabulary, flow and readability, while preserving core meaning and context.
The tool was created to help content creators, marketers, and businesses generate plagiarism-free, unique content easily and efficiently. Some of the most important options are:
Powerful paraphrasing engine to rewrite up to 2000 words
Integrates creativity into rewriting using advanced word choices and phrasing
Optimizes content for SEO by integrating relevant keywords
Checks the uniqueness of the generated content through the built-in plagiarism checker
Maintains high readability of the output during rewriting
See also: Using Stealth Writer AI
Usage scenarios
Blog posts and social media content
Website text, product descriptions
Guest post articles
Marketing materials such as emails, brochures
Newsletters, product listings
Product descriptions from Amazon/eCommerce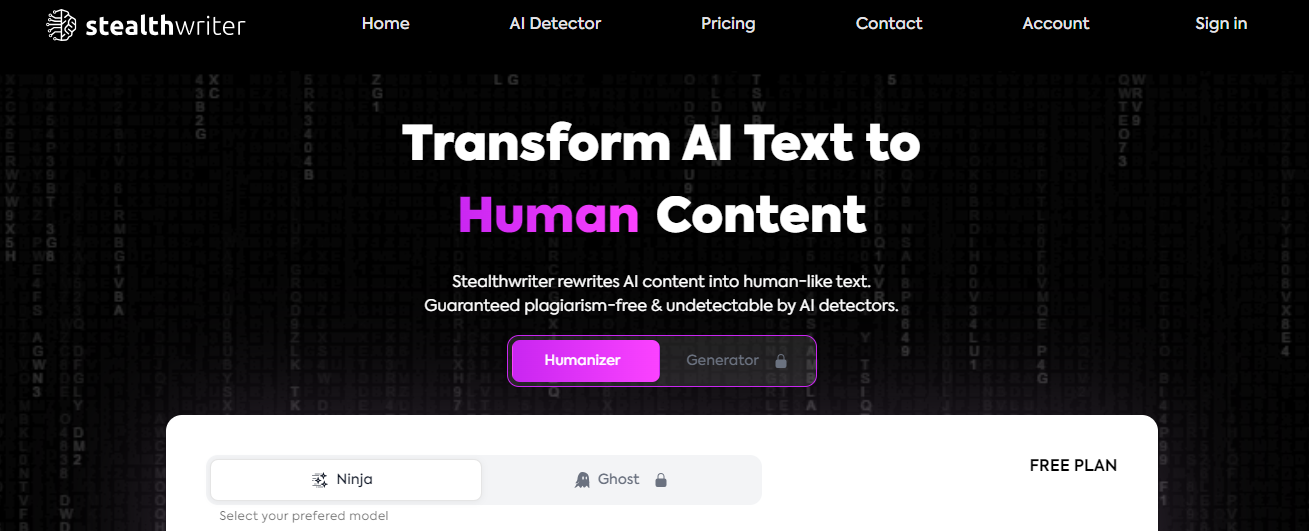 How Stealth Writer AI stacks up against alternatives
| | | | |
| --- | --- | --- | --- |
| Functions | Stealth Writer AI | Writingsonic | Simplified |
| Built-in plagiarism checker | Yes | No | Yes |
| Optimization of readability | Yes | No | Yes |
| Tone adjustment | Yes | No | No |
| SEO optimization | Yes | No | No |
| Creative rewriting | Yes | No | No |
| Scalability | High | Medium | Low |
| Prices | $67/month | $29/month | $37/month |
How Stealth Writer AI works: a look under the hood
Stealth Writer AI uses advanced AI, specifically transformative language models, to generate human-like content. Here's a step-by-step look at the content creation process:
User input– The user provides a text prompt, keywords, or content samples to Stealth Writer AI. This serves as a starting point.
Generate text: The transformer model analyzes the input and predicts the most likely next words, token by token, using its trained language understanding.
Language modeling: With extensive training on human text data, Stealth Writer AI can model natural, human-like language to smooth the generated text.
Engine overhaul: Multiple cycles of rule-based revisions are applied to refine and polish the raw generated text.
Quality controls: Rigorous quality reviews analyze grammar, style, relevance and coherence to further improve the text.
Final output: The refined, high-quality text that meets all the criteria is delivered to the user as the final output.
This combination of state-of-the-art transformer networks and rigorous training and revisions gives Stealth Writer AI its advanced capabilities to automate undetectable, human-like content at scale.
Breakdown of Stealth Writer AI Pricing Plans
Stealth Writer AI offers three pricing plans depending on usage needs:
Beginner: $67 per month – 1000 credits
Normal: $97 per month – 3000 credits
Company: $197 per month – 10,000 credits
Each credit allows you to generate content with 1000 tokens, so higher subscriptions allow generating more content. For casual bloggers or solo content creators, the Starter Plan should be enough to get started. For teams and agencies, the Business plan unlocks unlimited possibilities for high-volume content production.

Stealth Writer AI Review: My Experience and Verdict
Saves hours of writing and research time
Increases creativity and improves content quality
Guarantees 100% unique, original content
Optimizes content for findability by search engines
Offers customization options to meet needs
Scales content production with high-volume capabilities
Resume
After using Stealth Writer AI for my content needs for several weeks, I've found it to be invaluable for streamlining my blogging and social media content creation.
The rewritten content is indistinguishable from my own writing, and I appreciate how it seamlessly integrates relevant keywords rather than clumsily stuffing text with keywords. The built-in plagiarism checker gives me peace of mind when publishing the content.
Although the prices are on the higher side, for me the enormous time savings and flexibility that Stealth Writer AI offers far outweigh the SaaS subscription costs. The business plan scaled to meet my agency's content needs as our client base grew.
Overall, I highly recommend Stealth Writer AI for any content creator or marketer looking to take their content game to the next level with an AI-powered sidekick. It delivers on its promises of undetectable, high-quality content that takes the burden off the creative process immensely. With continuous algorithm improvements, Stealth Writer AI is a leader in innovative AI content solutions.
Conclusion: Automate content creation with Stealth Writer AI
Stealth Writer AI offers a taste of the future of AI-assisted content creation. By taking on the heavy lifting of researching and writing optimized drafts, Stealth Writer AI allows creators to focus on ideation and thought leadership.
The tool has firmly established itself as a breakthrough solution with its capabilities to produce human-like content that is indistinguishable from a real writer. For companies and creators looking to boost content marketing and differentiate themselves from the competition, Stealth Writer AI is definitely worth considering.
With the continued evolution of its capabilities, Stealth Writer AI has positioned itself at the forefront of content creation automation. For all creators and marketers looking for an AI writing assistant to take their content game to the next level, Stealth Writer AI delivers robust, undetectable content that meets their needs.
🌟 Do you have burning questions about Stealth Writer AI? Do you need some extra help with AI tools or something else?
💡 Feel free to send an email to Govind, our expert at OpenAIMaster. Send your questions to support@openaimaster.com and Govind will be happy to help you!
Related